UW Radiology
Recent Publications
Transfer patient imaging: discordances between community and subspecialist emergency radiologists
Michael G. Flowers, Garvit D. Khatri, Jeffrey D. Robinson - Published 2022 - EMERGENCY RADIOLOGY
Abstract 12356: Prevalence and Patterns of Injury Detected by Head-to-Pelvis Sudden Death Computed Tomography Following Cardiopulmonary Resuscitation
A. Karatasakis, B. Sarıkaya, Linda Liu, et al. - Published 2021 - CIRCULATION
Ballistic Debris of Unknown Composition Should Be Considered MRI Conditional.
N. Ditkofsky, Joel A. Gross, Justin P Dodge - Published 2021 - AJR. AMERICAN JOURNAL OF ROENTGENOLOGY
A Piercing Diagnosis – Occult Foreign Body as the Cause of Acute Inguinal Pain
Coral Bays-Muchmore, Deion T Sims, Joel A. Gross, et al. - Published 2021 - CLINICAL PRACTICE AND CASES IN EMERGENCY MEDICINE
Opportunistic Screening of Patients for Hepatic Steatosis: Clinical Follow-Up and Diagnostic Yield.
Rubal Penna, Jihoon Lim, Barbara L. Williams, et al. - Published 2021 - JOURNAL OF THE AMERICAN COLLEGE OF RADIOLOGY : JACR
American Society of Emergency Radiology Multicenter Blunt Splenic Trauma Study: CT and Clinical Findings.
James T Lee, E. Slade, J. Uyeda, et al. - Published 2021 - RADIOLOGY
Changes in Scapular Bone Density Vary by Region and are Associated with Age and Sex.
S. Telfer, C. Kleweno, B. Hughes, et al. - Published 2021 - JOURNAL OF SHOULDER AND ELBOW SURGERY
The role of imaging in the management of non-traumatic subarachnoid hemorrhage: a practical review
G. Khatri, B. Sarıkaya, N. Cross, et al. - Published 2021 - EMERGENCY RADIOLOGY
Uveal melanoma incidentally diagnosed with neuroimaging, a case series of 3 patients
Mai Tsukikawa, Babatunde Akinpelu, P. Wangaryattawanich, et al. - Published 2021 - RADIOLOGY CASE REPORTS
Special report of the RSNA COVID-19 task force: systematic review of outcomes associated with COVID-19 neuroimaging findings in hospitalized patients.
M. Mogensen, P. Wangaryattawanich, J. Hartman, et al. - Published 2021 - THE BRITISH JOURNAL OF RADIOLOGY
High-Resolution Magnetic Resonance Vessel Wall Imaging for the Evaluation of Intracranial Vascular Pathology.
J. Vranic, J. Hartman, M. Mossa-Basha - Published 2021 - NEUROIMAGING CLINICS OF NORTH AMERICA
Spinal Gout: Imaging and Clinical Features.
M. Mogensen, R. Deconde, B. Sarıkaya - Published 2021 - PM & R : THE JOURNAL OF INJURY, FUNCTION, AND REHABILITATION
87 Emergency Radiology Overreads Change Management of Transferred Patients With Traumatic Injuries
M. Vrablik, R. Kessler, S. Mitchell, et al. - Published 2021 - ANNALS OF EMERGENCY MEDICINE
Re-evaluating the safety and effectiveness of the 0.9 ankle-brachial index threshold in penetrating lower extremity trauma.
Jake F. Hemingway, Enock Adjei, Sarasijhaa K. Desikan, et al. - Published 2020 - JOURNAL OF VASCULAR SURGERY
Imaging of Pediatric Gastrointestinal Emergencies.
P. Pathak, Joel A. Gross, M. Thapa - Published 2020 - SEMINARS IN ROENTGENOLOGY
Clinical and Radiographic Factors Associated with Failed Renal Angioembolization: Results from the Multi-institutional Genitourinary Trauma Study (Mi-GUTS).
Manuel Armas-Phan*, S. Keihani, Nnenaya Agochukwu-Mmonu, et al. - Published 2020 - UROLOGY
The American Association for the Surgery of Trauma Renal Grading System: Should Segmental Kidney Infarction be Classified as a Grade IV Injury?
S. Keihani, Joel A. Gross, R. Joyce, et al. - Published 2020 - THE JOURNAL OF UROLOGY
Imaging of Tubes and Lines: A Pictorial Review for Emergency Radiologists.
C. Sandstrom, Yulia Obelcz, Joel A. Gross - Published 2020 - SEMINARS IN ROENTGENOLOGY
External Validation of a Nomogram Predicting Risk of Bleeding Control Interventions after High-Grade Renal Trauma: The Multi-institutional Genito-Urinary Trauma Study (MiGUTS).
S. Keihani, Sherry S. Wang, R. Joyce, et al. - Published 2020 - THE JOURNAL OF TRAUMA AND ACUTE CARE SURGERY
Recent Books
In recent years, we have published two books on Emergency Radiology:
---
Trauma Radiology Companion, Second Edition 
ISBN: 9781608313785
This is an easy-to-use, quick reference for trauma imaging designed for radiology residents, radiologists, and emergency physicians. The bulleted, key point format allows rapid access to succinct information for use in the clinical setting. Unlike traditional radiologic texts that emphasize image interpretation and follow a radiographic pattern, disease-oriented, anatomic site, or modality-specific approach,  this handbook provides easy-to-look-up answers to common and uncommon questions that arise in day-to-day work, as well as in training and studying. The text is written in bulleted style to emphasize key points related to the common diagnoses encountered in the trauma setting. This new edition presents up-to-date clinical and radiologic information and images, represents all imaging modalities now in use, and includes current MDCT protocols.
---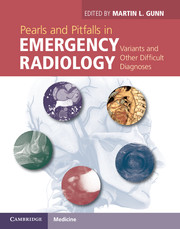 Pearls and Pitfalls in Emergency Radiology

Variants and Other Difficult Diagnoses
ISBN: 9781107021914
Rapid recognition of life-threatening illnesses and injuries expedites appropriate management and improves clinical outcomes. False-positive interpretations in radiology have been identified as a significant cause of error, leading to unnecessary investigation and treatment, increased healthcare costs, and delays in appropriate management. Moreover, it is important that radiologists do not miss important subtle diagnoses that need urgent intervention. Pearls and Pitfalls in Emergency Radiology provides an outline of common imaging artefacts, anatomic variants and critical diagnoses that the radiologist must master in order to guide appropriate care and avoid malpractice lawsuits. One hundred selected cases – illustrated with several hundred images from MRI, MDCT, PET, ultrasound and radiographs – are presented in a succinct and structured format, highlighting key pearls and potential diagnostic pitfalls. The text focuses on emergent presentations of diseases in all body regions in both adults and children.
The structured format and key points provide a quick reference point for the emergency department
Over 100 cases provide a fully illustrated compendium of what to look for and what to dismiss
Describes important diagnoses that are commonly missed or misinterpreted
---
Recent Articles in Peer-Reviewed Journals