UW Radiology
Recent Publications
Recent Emergency Radiology Publications
Policies and Guidelines for COVID-19 Preparedness: Experiences from the University of Washington
Mossa-Basha M., Medverd J., Linnau K.F., Lynch J.B., Wener M.H., Kicska G., Staiger T., Sahani D.V.
Radiology. 2020 Aug:E26-E31
Core curriculum illustration: epiploic appendagitis
Perez-Girbes A., Alegre A., Linnau K.F.
Emergency Radiology. 2020 Apr:221-222
The American Association for the Surgery of Trauma renal injury grading scale: Implications of the 2018 revisions for injury reclassification and predicting bleeding interventions
Keihani S., Rogers D.M., Putbrese B.E., Anderson R.E., Stoddard G.J., Nirula R., Luo-Owen X., Mukherjee K., Morris B.J., Majercik S., Piotrowski J., Dodgion C.M., Schwartz I., Elliott S.P., DeSoucy E.S., Zakaluzny S., Sherwood B.G., Erickson B.A., Baradaran N., Breyer B.N., Fick C.N., Smith B.P., Okafor B.U., Askari R., Miller B.D., Santucci R.A., Carrick M.M., Allen L.D., Norwood S., Hewitt T., Burks F.N., Heilbrun M.E., Gross J.A., Myers J.B.
Journal of Trauma and Acute Care Surgery. 2020 Mar:357-365
Core curriculum illustration: abdominal wood impalement injury from motor vehicle collision
Fadl S., Ehlers A., Wallace G., Gross J.
Emergency Radiology. 2020 Feb:111-113
Oligohydramnios: a prospective study of fetal, neonatal and maternal outcomes in low-middle income countries
Figueroa L., McClure E.M., Swanson J., Nathan R., Garces A.L., Moore J.L., Krebs N.F., Hambidge K.M., Bauserman M., Lokangaka A., Tshefu A., Mirza W., Saleem S., Naqvi F., Carlo W.A., Chomba E., Liechty E.A., Esamai F., Swanson D., Bose C.L., Goldenberg R.L.
Reproductive health. 2020 Jan:19
Low-dose aspirin for the prevention of preterm delivery in nulliparous women with a singleton pregnancy (ASPIRIN): a randomised, double-blind, placebo-controlled trial
Hoffman M., Goudar S., Kodkany B., Metgud M., Somannavar M., Okitawutshu J., Lokangaka A., Tshefu A., Bose C., Mwapule A., Mwenechanya M., Chomba E., Carlo W., Chicuy J., Figueroa L., Garces A., Krebs N., Jessani S., Zehra F., Saleem S., Goldenberg R., Kurhe K., Das P., Patel A., Hibberd P., Achieng E., Nyongesa P., Esamai F., Liechty E., Goco N., Hemingway-Foday J., Moore J., Nolen T., McClure E., Koso-Thomas M., Miodovnik M., Silver R., Derman R., Bauserman M., Bucher S., MacGuire E., Naqvi F., Naqvi S., Nathan R., Parepalli S., Soomro Z., Wallace D.
The Lancet. 2020 Jan:285-293
Imaging of Pediatric Gastrointestinal Emergencies
Pathak P., Gross J., Thapa M.
Seminars in Roentgenology. 2020 Jan
Letter From Guest Editor
Gross J.A.
Seminars in Roentgenology. 2020 Jan
Operational Considerations in Emergency Radiology
Robinson J.D., Gross J.A., Cohen W.A., Linnau K.F.
Seminars in Roentgenology. 2020 Jan
Re-evaluating the safety and effectiveness of the 0.9 ankle-brachial index threshold in penetrating lower extremity trauma
Hemingway J., Adjei E., Desikan S., Gross J., Tran N., Singh N., Starnes B., Quiroga E.
Journal of Vascular Surgery. 2020 Jan
The mandible-C2 angle: a new radiographic assessment of occipitocervical alignment
Bellabarba C., Karim F., Tavolaro C., Zhou H., Bremjit P., Nguyen Q.T., Agel J., Bransford R.J.
Spine Journal. 2020 Jan
CT volumetric measurements correlate with split renal function in renal trauma
Chung P.H., Gross J.A., Robinson J.D., Hagedorn J.C.
International Urology and Nephrology. 2020 Jan
Imaging of Tubes and Lines: A Pictorial Review for Emergency Radiologists
Sandstrom C.K., Obelcz Y., Gross J.A.
Seminars in Roentgenology. 2020 Jan
The effect of age and sex on pelvic bone density measured opportunistically in clinical CT scans
Telfer S., Brunnquell C.L., Allen J.D., Linnau K.F., Zamora D., Kleweno C.P.
Journal of Orthopaedic Research. 2020 Jan
Is it safe to inject contrast through the side arm of an introducer sheath? An in vitro study
Khatri G.D., Robinson J.D.
Emergency Radiology. 2020 Jan
Core curriculum case illustration: blunt traumatic thoracic aortic pseudo aneurysm
Ramzan M., Fadl S., Robinson J.
Emergency Radiology. 2019 Dec:695-697
Core curriculum case illustration: cardiac tamponade complicating proximal aortic dissection
Aaltonen H., Linnau K., Fadl S.
Emergency Radiology. 2019 Oct:587-589
Emergency Radiology20515
Recent Books
In recent years, we have published two books on Emergency Radiology:
---
Trauma Radiology Companion, Second Edition 
ISBN: 9781608313785
This is an easy-to-use, quick reference for trauma imaging designed for radiology residents, radiologists, and emergency physicians. The bulleted, key point format allows rapid access to succinct information for use in the clinical setting. Unlike traditional radiologic texts that emphasize image interpretation and follow a radiographic pattern, disease-oriented, anatomic site, or modality-specific approach,  this handbook provides easy-to-look-up answers to common and uncommon questions that arise in day-to-day work, as well as in training and studying. The text is written in bulleted style to emphasize key points related to the common diagnoses encountered in the trauma setting. This new edition presents up-to-date clinical and radiologic information and images, represents all imaging modalities now in use, and includes current MDCT protocols.
---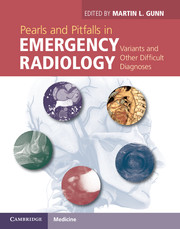 Pearls and Pitfalls in Emergency Radiology

Variants and Other Difficult Diagnoses
ISBN: 9781107021914
Rapid recognition of life-threatening illnesses and injuries expedites appropriate management and improves clinical outcomes. False-positive interpretations in radiology have been identified as a significant cause of error, leading to unnecessary investigation and treatment, increased healthcare costs, and delays in appropriate management. Moreover, it is important that radiologists do not miss important subtle diagnoses that need urgent intervention. Pearls and Pitfalls in Emergency Radiology provides an outline of common imaging artefacts, anatomic variants and critical diagnoses that the radiologist must master in order to guide appropriate care and avoid malpractice lawsuits. One hundred selected cases – illustrated with several hundred images from MRI, MDCT, PET, ultrasound and radiographs – are presented in a succinct and structured format, highlighting key pearls and potential diagnostic pitfalls. The text focuses on emergent presentations of diseases in all body regions in both adults and children.
The structured format and key points provide a quick reference point for the emergency department
Over 100 cases provide a fully illustrated compendium of what to look for and what to dismiss
Describes important diagnoses that are commonly missed or misinterpreted
---
Recent Articles in Peer-Reviewed Journals