UW Radiology
The Dominance of Words in a Visual World
We recently got the newest copy of Radiology Today and yet again the cover story was most interesting.
"Substance with Style" by Beth W. Orenstein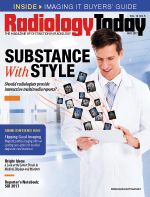 In this article, Orenstein comments on the wide use of text-based reports by radiologists despite the major advancements in imaging technology over the past 100 years. On page 12, Dr. Folio states, "Every time I pull up a case, if it doesn't have hyperlinks, I'm disappointed." What kind of impact could this have on healthcare? Orenstein asks the question,
"Should radiologists provide interactive multimedia reports?"
The problem with integrating multimedia is compatibility with systems "downstream." On page 14, Dr. Gaskin says, "there are format issues between vendors and products that just have been slow to adopt." These problems are much the same in the library world. The majority of information systems were built to accommodate one type of document: a text-based one. The internet makes it possible for anyone to create and collect all kinds of media: music, video, blogs, etc. Linked data connects these different forms of information together via hyperlinks, so users can curate media to their needs.
So, why not in radiology?
On page 15, Dr. Gaskin states, "A patient who tears his meniscus may not fully understand what he's looking at in the radiology report, but he's still interested in seeing it. If he can click on a link that takes him straight to the tear, it doesn't change the outcome, but it could change his satisfaction with his doctors." Wow! Just like in libraries, we are often beholden to software companies and have little say in the products they create. Dr. Gaskin suggests to include interactive capability as an important requirement on your request for proposal to vendors.
Eventually, they will get the message!
As always, I am continually amazed by the parallels in the library world to radiology! If you are interested in reading the full article, stop by the library or view it here (UWNetID required to view).
Thanks for reading!
-M