UW Radiology
Big Data: Tackling Information Overload in Radiology
Information overload! The immense wealth of information provided through the growth of technology and the stress it can induce is far reaching. Big data itself is a buzzword repeatedly featured increasingly in the media. This mountain of data can be seen in the information science field, health care, and our daily lives. It impacts us everywhere we go. How can we possibly navigate it all?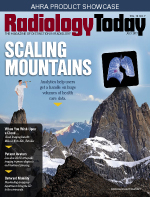 The recent issue of Radiology Today features an article on how analytics aid in sifting through and sorting the large influx of data in health care. This topic of too much information links library and information science with radiology. What are we doing with all this data? How are the ways in which we use data improving, or harming, society?
Read the article here!
And for more great reads on Big Data in medicine check out this Forbes article. Or a Big Data introduction feature.
Thanks for reading!
Kelly